The eight national winning teams of the 30th annual Toshiba/NSTA ExploraVision competition shared innovative proposals to help overcome some of the world's greatest challenges, from healthcare to sustainability efforts to energy efficiency.
During an unprecedented school year, these students as well as their coaches and mentors showed dedication and creativity in developing new solutions and technologies to improve the world around them. We congratulateed the national winning teams by celebrate their accomplishments during our ExploraVision awards ceremony on Friday, June 3, 2022
Learn more about the 2022 ExploraVision national winners below.
First-Place Winners
Grades K-3: Nightmare-No-More Pajamas, Greenfield Elementary – Philadelphia, PA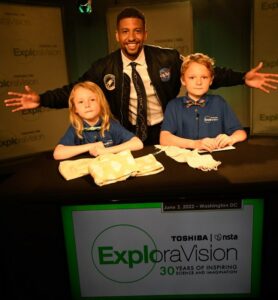 Nightmare-No-More Pajamas turn the lights out on nightmares for kids everywhere! These comfy pajamas and sleep cap use a smart fabric with electrodes and sensors that monitor a child's sleep cycle and can comfort the child by helping them to change their bad dreams as they are happening. Connected by Bluetooth to a smartphone, sensors alert the app to download one of the child's programmed stories to the brain where it will change the nightmare into a wonderful dream.
Grades 4-6: Fungi Plastivore Purifier, Queen of Peace – Salem, OR @queenofpeaceschool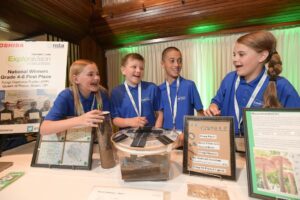 Plastic is a problem because it is infesting our soil and showing up in our food. People could become sick from digesting too much plastic. Fungi Plastivore Purifier (FPP) uses a compression system that inserts capsulated Pestalotiopsis microspora spores into the soil where plastics were located using advanced LIDAR technology. Pestalotiopsis microspora devours and breaks down polyurethane, turning it into organic matter. FPP will clean and purify our soil, leading to healthier food and water conditions while preventing serious illnesses.
Grades 7-9: CC Bot (Coronary Cure Bot), Seattle Preparatory School and Holy Names – Seattle, WA @SeattlePrep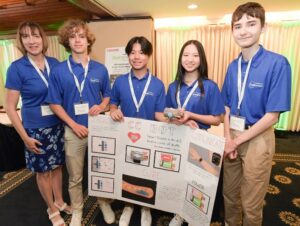 Every year, 7.2 million people die from Coronary Heart Disease (CHD) worldwide. In the U.S, 610,000 die a year from CHD, which is one in every four deaths. According to the World Health Organization, the world's leading cause of death is heart disease. The CC Bot is a nanobot that can detect and eliminate heart disease before it takes a life. The nanobot will be equipped with nano-biosensors, ultrasound, and artificial intelligence for early detection. To eliminate any problems within the arteries, we will leverage macrophages to remove plaque. The nanorobot will communicate using electromagnetic radio waves with a smart device such as a smartwatch which will provide information through the display for the user.
Grades 10-12: iSpyStroke, University of Illinois Laboratory High School – Urbana, IL @unihighuiuc
iSpyStroke is a sleeping mask designed to target wake-up strokes, a type of stroke that occurs while a person is sleeping. Consisting of electroencephalogram sensors that can detect any irregular brain wave activity, iSpyStroke can alert medical professionals and emergency contacts through the connected app if a wake-up stroke is detected. Vibrators and alarms attached to the device will also awake the wearer, ultimately saving many lives by streamlining the treatment process.
Second-Place Winners
Grades K-3: Diabetic Balance Shoe, Sonny & Joanne McSpedden Elementary School – Frisco, Texas @McSpeddenES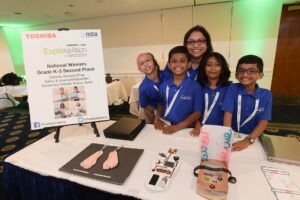 Every 30 seconds a leg is amputated and 85% of these amputations is due to diabetic foot ulcers. The Diabetic-Balance, "DiaBal" shoe helps detect and prevent diabetic foot ulcers by using different sensors for pain, blood flow/pressure/sugar and temperature. Sensors detect loss of balance and use motors and conveyor belts to spread the feet, stabilize and prevent falling. The shoe also massages the leg. Sensors connect to the smartphone via Bluetooth to capture data and provide updates to doctors.
Grades 4-6: The Replenishanator, A.D. Henderson University School – Boca Raton, FL @ADHUS_FAUHS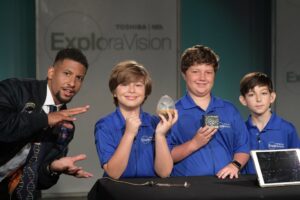 The Replenishanator helps with deforestation using technology to improve the replanting process. It utilizes a modified drone with a pressurized seed gun to carry a smart seedling for planting to help reforest the planet. The smart seedlings are encapsulated in a pod containing everything needed to optimize the seedling's ability to be successfully planted. The Replenishanator will be loaded with other technologies allowing for additional research and improvements to help the environment and address climate change.
Grades 7-9: A.L. 3000: An autonomous remotely-operated vehicle to collect and degrade ocean microplastics, Academies of Loudoun – Leesburg, VA @LCPSAcademies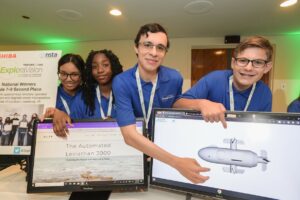 The A.L. 3000 is an autonomous ROV that filters microplastics from the ocean. The drone cruises beneath the surface and uses echolocation technology to detect microplastics, which are then passed through a fine filter to separate them from the seawater. The filter is subsequently exposed to plastic-digesting bacteria that degrade the collected microplastics. Each of these operations are controlled by a buoy that communicates with the ROV wirelessly and that collects solar energy to recharge it.
Grades 10-12: Genetically Engineering A Neonicotinoid-Degrading Microbiome Bacteria Using CRISPR Technology to Create a Probeeotic that Combats Bee Mortality, Westminster High School – Westminster, CA  @WHSLions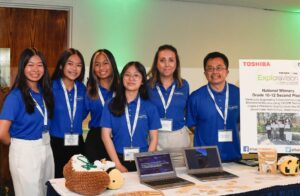 Western honeybees are vital pollinators in promoting biodiversity and securing crop production. However, since the early 1990s, neonicotinoids, a group of insecticides, have risen in use and contributed to the decline of honeybees due to its toxicity that disrupts bee's nervous systems. Our solution to combat bee mortality is a probiotic composed of neonicotinoid-degrading microbiome bacteria. Genetic engineering, CRISPR technology DNA cloning, and freeze-drying techniques will be utilized to develop a novel probiotic solution.
Get inspired? You or your students/kids could be the next innovators! Please sign up for exclusive STEM-azing newsletter to keep you updated on the Toshiba/NSTA ExploraVision program.