Sara Lepkofker is a science teacher at Northview High School in Johns Creek, GA. Last year, she coached a 10-12 science team that won 2nd place nationally and was honored at the ExploraVision Awards Weekend in Washington, DC.
Q: Do you find project-based learning assignments help students retain STEM concepts?
A: Years ago, our local county required high school STEM students to write literature reviews that demonstrated research skills. Based on our school's experience, we didn't find students were able to absorb those complex concepts in 9th grade. Within the last four years, we replaced traditional 'lit reviews' with ExploraVision. Now, students are more engaged than before because ExploraVision teaches better research skills.
Q: How much guidance do you provide to your team?
A: I guide my students through the brainstorm process and help them flesh out ideas. I always encourage students to read the ExploraVision website to make sure their concepts aren't similar to past winning projects.

Caption: Sara's team proudly presents their framed award certificates during a school assembly
Q: Where do your students need the most help with ExploraVision?
A: Because I teach an Honors Biology course, I expect students to do much of their own work. However, I find my students need help with APA or MLA citations. Before we submit the project, I make sure all sources are cited correctly within the context of the research paper and the bibliography.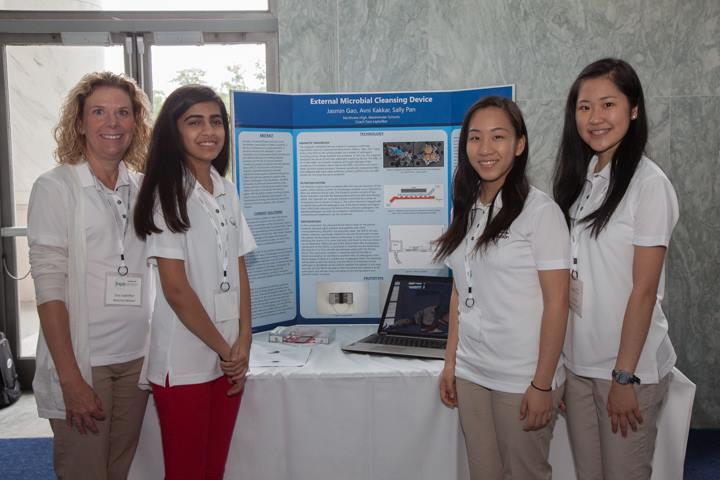 Caption: Sara's team presented a novel way to cleanse blood of impurities during a special session with US elected officials
Q: How do you keep your students motivated during the ExploraVision submission process?
A: I'm fortunate that many of my students are self-motivated, however, I encourage enthusiasm among other students by showing them photos of the past winners with Bill Nye. When my students ask if they can meet Bill Nye, I joking reply, "Maybe if you win ExploraVision!" Above all, high school students also want to put accolades from a national competition on their college résumé.
Ready to make your STEM classroom more interactive for the chance to win recognition and prizes? Registration is open now!