There is a reason that for the past four years, I have participated in the ExploraVision science competition with my students—it's because little kids have big ideas that deserve to be nurtured and recognized. There are so many fabulous examples of young learners dreaming up amazing inventions and being celebrated for them that can serve as inspiration for kids. Throughout the year, I share stories of young inventors by showing clips from STEAMIE videos, The Tonight Show Starring Jimmy Fallon, The Ellen DeGeneres Show and even Good Morning America. By the time December rolls around and the ExploraVision competition begins accepting entries, my students need no convincing. They are ready to go, and excited to bring their own ideas to life. I would like to share what I have found to be some of the best practices for getting younger students to engage and succeed with this project competition. 
Year-Round Scientific Exploration
It's incredibly important for K-12 students to be exposed to the Next Generation Science Standards that teach them what it takes to bring ideas to reality. I like to start this process by creating an idea board in the classroom, where throughout the year we write down real-world problems that students are interested in exploring further. Any time we learn about an issue like climate change or water pollution, we put potential solutions on the board. By the time December comes around, we have upwards of 50 ideas to explore in our ExploraVision projects.


Students exploring STEM concepts on the computer
Getting Started
My classroom dedicates the entire month of December—DeSTEMber, as we like to call it—to the ExploraVision project process. We start our unit by reading the book The Most Magnificent Thing, about a little girl who sets out to make the most magnificent thing and overcomes a variety of obstacles in the process. Then, I organize students into their project teams based on their similar passions and personality. I try to pair students who I know will work well together for the month-long project.
Writing the Research Paper
The biggest challenge for my younger students is researching current technology and writing the paper itself. To facilitate the research portion of the project, I print and laminate grade-appropriate information cards about common technologies that my students usually explore, like Bluetooth, Wi-Fi, GPS and microchips. I even print out project-specific articles for each team that I think will help guide them in their research. Laminating the source material allows students to annotate with dry erase markers they can wipe off before the next group gets the article.
Each team creates a bulleted list of the project's features, what differentiates it, who it helps and how it works. Once these details are complete, they draw a labeled diagram of their invention and begin creating a 3D prototype in our STEM lab. Once students have completed their research, project description and prototype, we have a sharing session to get feedback from peers.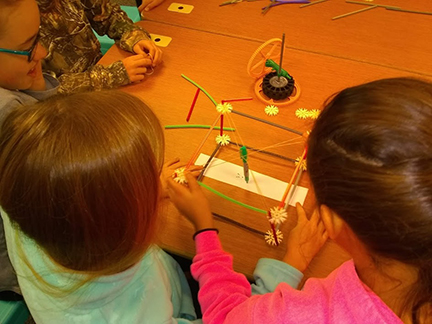 Students hard at work building their prototype
Once students are ready to start the research paper, we use Voice Typing on Google Docs to get their ideas on the computer. This eliminates frustration for students who are still learning to spell and build paragraphs, because they can create a paragraph seamlessly from one minute of talking.
The Value of ExploraVision
I love ExploraVision because it encourages all types of learners to become real-world problem solvers. The project has so many components that allow both visual learners and analytical thinkers to shine, so every student feels like a valuable member of the process. To cap off the ExploraVision projects, we invite parents and administrators to come in for presentations so students can share their ideas and show off their prototypes. They love the fact that so many adults are paying attention to an idea that they came up with.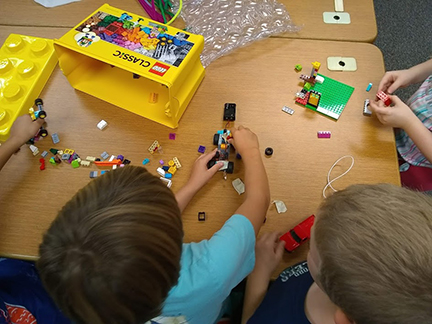 Hands-on learning at work!
ExploraVision has also evolved a lot based on feedback from teachers like me—they have adjusted the project format to make it even easier for young learners to participate in the competition. Whether you teach kindergarteners or high school seniors, this competition is an engaging experience that encompasses multiple subject areas and is worthy of your time.
About the Author: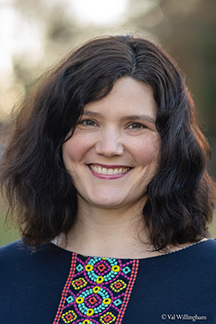 @coveydenton
Covey Denton is a K-8 science teacher at Sallie B Howard School of the Arts in Wilson, NC.  This is her 4th year participating in the ExploraVision competition with her students, who submit as many as 50 projects a year. This past year, her second-grade team received the Regional Winner award for their "Purr Pad" invention!