When I first learned about ExploraVision, I thought it would fit perfectly in my new, year-long Nanoscale Science and Engineering class. As it turns out, I could not have created a better way for my high school students to develop 21st century skills. They learn to read research papers and reference research in their own writing. They become aware of the National Academy of Engineering's Grand Challenges for Engineering, and start to think in terms of the potential benefit science brings to society. They grow their teamwork skills while working within constraints and with a deadline, as well as stretching their creativity muscle, something we don't often do in science classes. They even learn a little about being customer-focused, by learning how to present or 'sell' their product.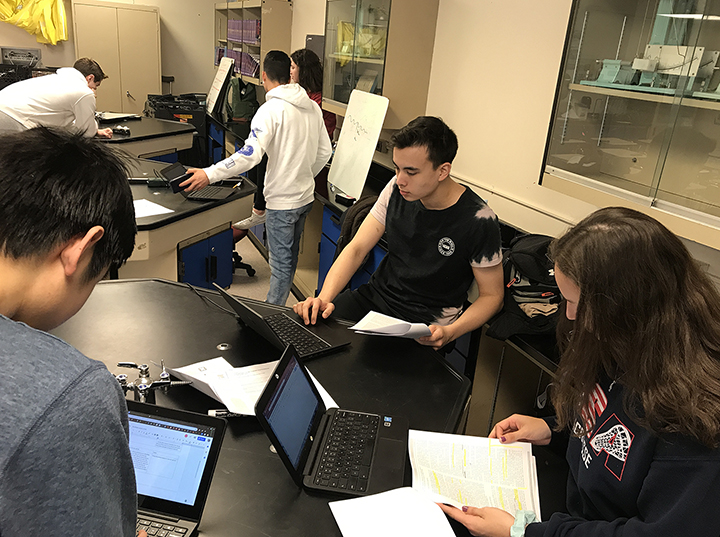 Students working on their ExploraVision projects
For these reasons, everyone in my class participates in ExploraVision. Brainstorming, developing, and writing the application has become part of our curriculum. We begin working on project ideas in December, after the students have learned all the ways in which properties of materials differ at the nanoscale. Students use that knowledge to explore current nanoscience and nanotechnology research for their ExploraVision projects.
The Importance of the Scientific Research Paper
I have found the key to linking my students' ideas to science and current technologies is through the scientific research paper. Through my own participation in ExploraVision, I have learned how to read research literature and I now teach my students to do the same. Scientific literature is not easy to read, but it is the key to competing at the high school level—in fact, in my opinion this aspect of ExploraVision delivers the biggest value for my students. Being able to develop this significant skill gives my students a key advantage.
Teaching Students How to Decode Scientific Research
Fortunately, there are lots of resources available to help your students understand how to read and interpret scientific research. There are the Harvard and Stanford explanations; if those are overwhelming for a first-time reader, you can also take a look at this Medium post. One section entitled, "You Will Not Understand Everything in One Read Through," is perhaps the most important advice you will get. I tell my students that they will understand maybe 10% of what they read—and that's OK! I instruct them to highlight words and phrases that catch their eye or are unclear to them. They pass a number of papers around in their group until everyone has had a chance to skim and highlight each one. Then, we discuss.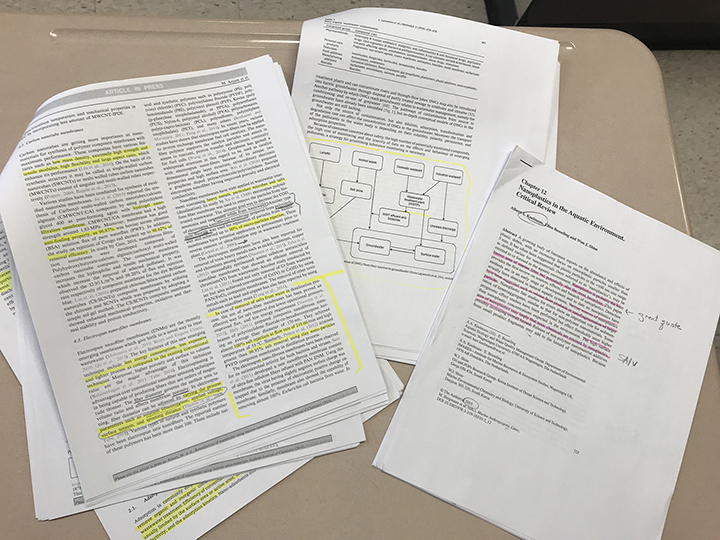 Scientific research papers that my students marked up
Of course, pictures and diagrams are one of the best sources of information and often the most easily understood. This resource from Elysium Health advises:
"Pay attention to the figures and charts, which pack a lot of clear information into visuals. Read the captions closely, since they tend to explain the results with simple, clear language. And circle back to simplest questions: What is being measured? Given what you read in the Introduction and Discussion, what do the data illustrate?"
Then there is this wonderful infographic from Elsevier, How To Read Scientific Papers, which is printable and very easy to read. Do not be afraid of the research paper. I never purport to be an expert in the science, I'm as much of a learner as my students. My attitude is: let's learn together.
Source: http://www.elsevier.com/connect/infographic-how-to-read-a-scientific-paper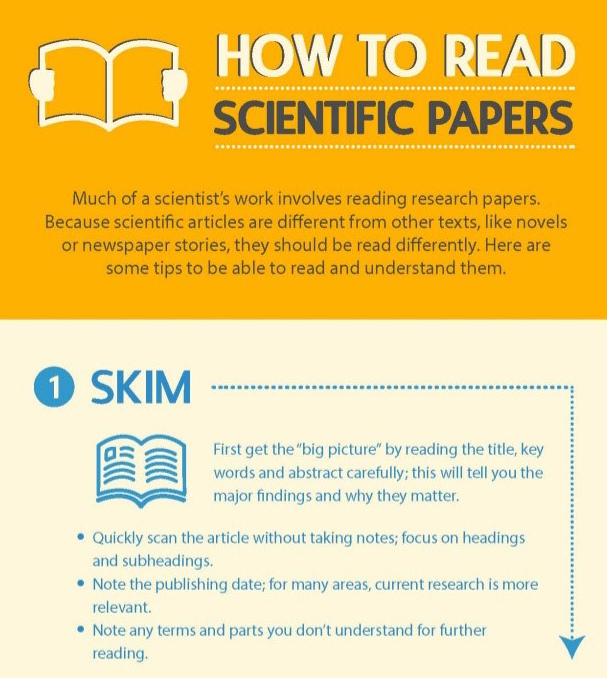 Where do you find the scientific research, you ask? Most articles on scientific innovations will provide a link to the research paper. If your students want to search a particular topic directly, this site lists several sources for finding and accessing research papers.
How ExploraVision Promotes Scientific Research
    The ExploraVision program places a huge emphasis on thoroughly researching and understanding current science and technology, so that students can ideate on its potential future applications. Being able to access the latest scientific research is an opportunity for powerful learning. It provides a bridge between the high school science classroom and a universe of academic research and innovation. Hopefully, you will take the leap and learn, as I did, how much your students—and you—are capable of.
Download these powerful K-12 lesson plans to get started!
About the Author
Mariel Kolker is a science teacher at Morristown High School, where she recently developed a Nanoscale Science and Engineering class for her students. An innovative educator, she decided to introduce ExploraVision into her curriculum to teach her students how to write and understand scientific research papers. She believes the skills that can be learned in this science competition have countless real-world applications that will provide a lifetime of value for young learners.