From a proposed method to reduce greenhouse gases in the atmosphere to a water-bound drone that will reduce ocean pollution, the brilliant winners of the Toshiba/NSTA (National Science Teachers Association) ExploraVision competition have created innovative technologies that could help build a better, more sustainable future. Today, the program recognized the national winners of the world's largest K-12 science and technology competition, which is designed to build problem-solving, critical thinking and collaboration skills. Learn more about the first and second place winners in each age group below.
First-Place Winners
Grades K-3: iSuit, Saint Joseph School, Seattle, Washington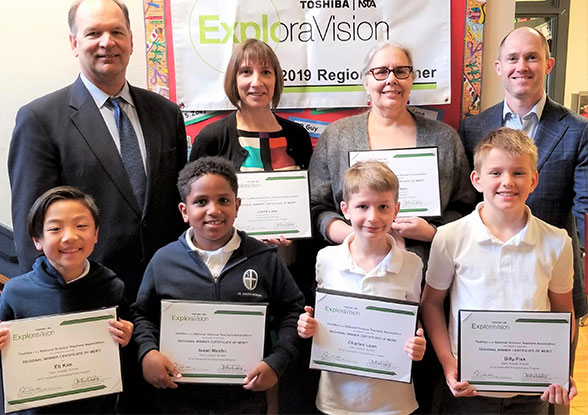 Drowning is the number one cause of accidental death for children ages one to four, number two for children up to 14 and number 15 overall. To stop any additional deaths from occurring, a team of third graders from Saint Joseph School in Seattle, Washington, created iSuit. This adaption of the traditional swimsuit will use artificial intelligence to release oxygen to inflate the suit and use radio waves to send a message if conditions of distress are transmitted.
Grades 4-6: Algatiles, Coulson Tough K-6 School, The Woodlands, Texas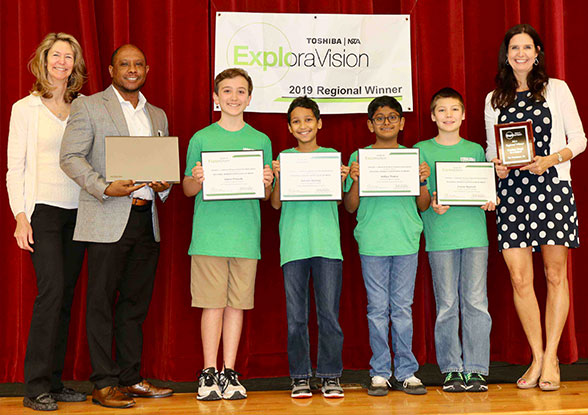 This team aims to create a greener future. Sixth graders from Coulson Tough K-6 School in The Woodlands, Texas, proposed Algatiles, an effective roofing alternative that supports the growth of algae and has the ability to absorb thirty-two pounds of CO2 per year, countering anthropogenic carbon dioxide in the atmosphere.
Grades 7-9: Cure for Chronic Hepatitis B Virus (HBV) Infection, The Nueva High School, San Mateo, California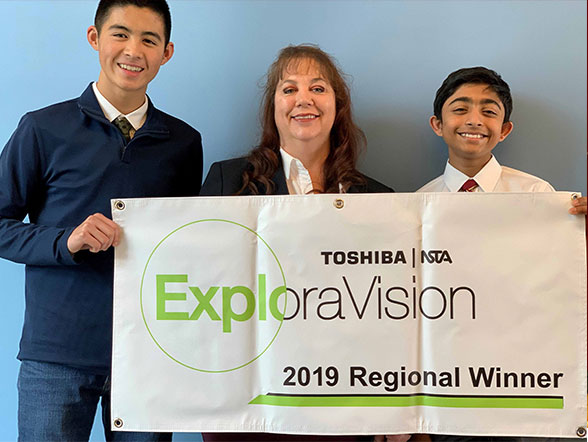 Ninth graders from The Nueva High School in San Mateo, California, developed "A Cure for Chronic Hepatitis B Virus (HBV) Infection." Their invention is a one-use cure for HBV that contains a CRISPR-Cas9 cocktail specific to the genes for HBx (an important protein coded by the HBV genome) and NTCP (the receptor used by HBV to enter a patient's liver cell) using lipid nanoparticles targeted to the liver. Inhibiting HBx and NTCP with CRISPR-Cas9 will eliminate the virus from infected liver cells and cure patients with a single delivery.
Grades 10-12: Engineering M. Luteus to Fix the Greenhouse Gases Methane and Carbon Dioxide, Mission Vista High School, Oceanside, California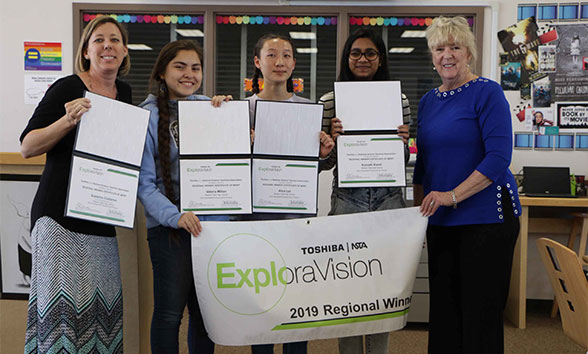 Another team of tenth through twelfth graders from Mission Vista High School in Oceanside, California, engineered "M. Luteus" to fix the greenhouse gases methane and carbon dioxide. This method to reduce the amount of these gases in the atmosphere by genetically modifying the bacteria Micrococcus luteus strain ATCC 4698 is achieved by inserting carboxysomes and soluble methane monooxygenase (sMMO) operons into its genes.
Second-Place Winners
Grades K-3: The APCD (Autonomous Pollution Control Drone), University School of Nashville, Nashville, Tennessee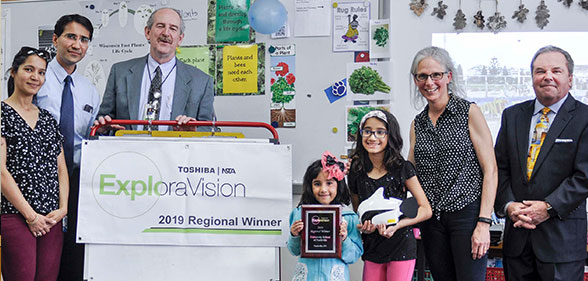 Covering more than 70% of our planet, our oceans and seas are among the Earth's most valuable natural resources, governing the weather, producing oxygen and serving as a home to most of the life on Earth. Students from University School of Nashville in Nashville, Tennessee, wish to conserve our water and developed the Autonomous Pollution Control Drone (The APCD), which postulates creation of an autonomous drone combining mechanical and biological means to reduce pollution in the oceans.
Grades 4-6: RMF: Leaves Changing Shapes (Relinquit Mutatio Figura), Lee Elementary, Salem, Oregon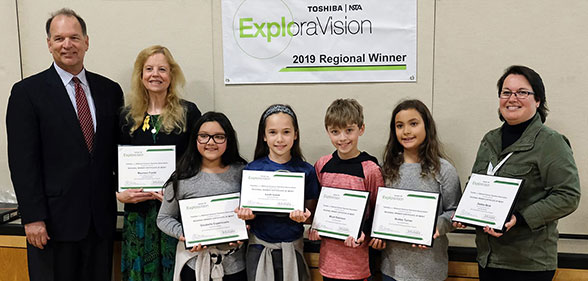 Fourth-grade students from Lee Elementary in Salem, Oregon, seek to help societies across the globe combat noise pollution. Exposure to continual noise causes stress, poor concentration, hearing loss, and heart conditions. Recent research states that noise effects children's learning. Their project, "RMF: Leaves Changing Shapes (Relinquit Mutatio Figura)" uses liquid-elastomers (LCE's) and 4-D printing, creating a leaf shape-shifting system to absorbs sound waves. RMF also returns natural environmental sounds into communities, ultimately absolving health risks associated with noise pollution.
Grades 7-9: NewFerro Roads, University of Illinois Laboratory High School, Urbana, Illinois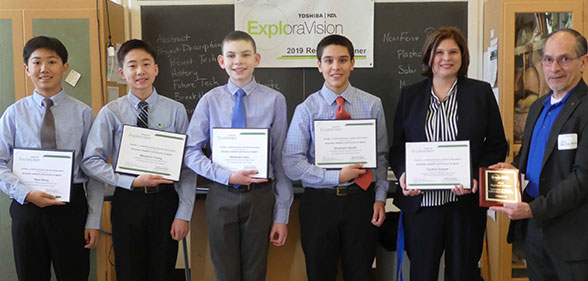 A team of eighth graders from the University of Illinois Laboratory High School in Urbana, Illinois, sought to address the continuous issues motorists experience as a result of damaged road systems. According to the U.S. Department of Transportation, each motorist spends $290 on average on car repairs due to deteriorating roads each year, totaling $410 billion per year. The team's invention, "NewFerro Roads," will revolutionize road maintenance by using an advanced magnetic nanofluid, Phase-Mag Fluid (PMF), which allows the road to self-repair.
Grades 10-12: Cancer BAN-R: Blood and Nerve Regeneration, Jericho High School, Jericho, New York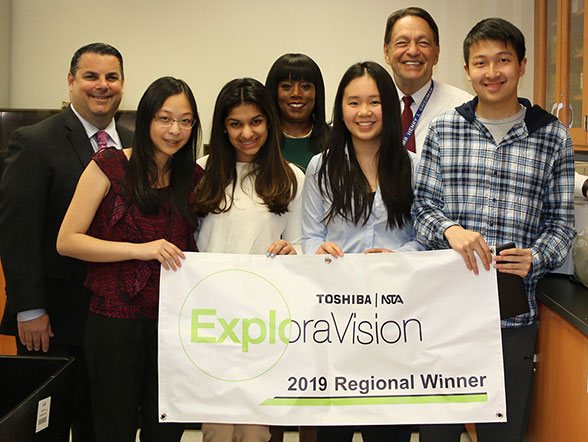 Twelfth graders from Jericho High School in Jericho, New York, designed the Cancer BAN-R: Blood and Nerve Regeneration. This device is a novel graphene patch which incorporates laser sensors, microneedles, nanotechnology, and growth hormones to provide noninvasive transdermal delivery of specialized therapeutics, helping to restore nerve and tissue function after chemoradiation.
Congratulations again to all of the 2019 ExploraVision winners! We look forward to seeing what these bright STEM students will dream up next in their promising futures.