It can be challenging to engage young children in the many STEM disciplines. Take it from me—I have taught both special education and mainstream education for 31 years and have successfully developed ways to help my students discover an interest in those fields. In my 2nd grade classroom at Homecroft Elementary School in Duluth, MN, I like to encourage students to view themselves as scientists—teaching them that they have the power to make a difference in the world. Ten years ago, I wanted to find a way to inspire them to think outside-of-the-box and work together, so I added "Super Science Friday" to my curriculum. Over time, I realized ExploraVision could work well with existing curriculum.
Super Science Friday Creates Excitement in the Classroom
During this weekly activity, students are able to gain hands-on experience through conducting experiments, writing lab notes and practicing the use of the scientific method. In addition to helping cultivate an interest in science, this provides a great opportunity for them to develop skills in reading, math and vocabulary.
This area of my curriculum also serves as a great tool for incorporating interesting aspects of different cultures. Through dress, music and ritual, I've successfully created a fun environment conducive to science learning that my students view as an exciting and magical part of each week.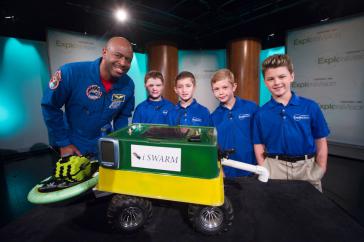 These 2018 2nd grade ExploraVision winners from North Reading, MA prove that students of all ages have a chance to showcase their best ideas
Combining The Powers of ExploraVision and Super Science Friday
ExploraVision is a great fit for my science-focused lesson plans each Friday. It gives students the ability to work toward finding a solution to real-life issues and encourages them to think big. As "young scientists," my students are motivated by the chance to meet two of their favorite STEM icons, Bill Nye the Science Guy and Leland Melvin, at the ExploraVision awards weekend.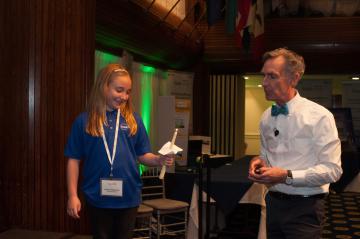 Many teachers incentivize their students to work hard by showing photos of the previous year's fun ExploraVision Awards ceremony in Washington, D.C.
What I enjoy most about ExploraVision is the versatility of the program. For me, it's part of a larger effort to engage students across the academic spectrum. But other teachers might use ExploraVision as its own after-school program. It's completely up to teachers to determine their level of involvement and scale their involvement up or down.
If you are looking for creative ways to engage young students, spark an interest in STEM and add excitement to your classroom, I highly encourage incorporating this project-based learning challenge into your curriculum. ExploraVision can positively impact the lives of all students regardless of ability.
Download these powerful K-12 science lesson plans to get started!
About the Author
Elizabeth Kersting-Peterson is a second-grade teacher at Homecroft Elementary School in Duluth, MN. Recently, she was named the Air Force Association Chapter Teacher of the year from the Bong Chapter. Learn more about Elizabeth and other ExploraVision ambassadors.