I'm continually amazed by the brain power of 3rd-5th graders—even before the school day begins! In our STEM Lab at Kemp Hill Elementary School in Silver Spring, MD, I make the first morning session of ExploraVision Club an upbeat and exciting time for the students to think creatively. Prior to starting the lesson, I round up all the sticky notes I can find in my classroom and make a big stack, ready for the students. By not using loose leaf paper, it signals that this is a fun, grade-free activity.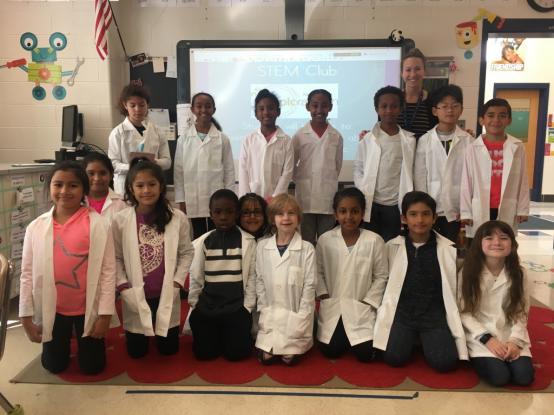 Set the Stage for Big Ideas
As we introduce the project and analyze the details of our requirements, I provide a challenge to my students. I ask, "What can you invent with science that can make our world a better place?" With this in mind they get to chatting, as we always begin a lesson with an opportunity for discourse to practice their speaking and listening skills. In our suburb of Washington, D.C., I work with a large ESOL population, and strive to incorporate the four language domains: speaking, listening, reading and writing each day. Soon, 5-10 minutes fly by as I am jump from group to group and listen in—but not commenting much yet—on their initial thoughts.
Next, we move into writing and the sticky notes come out in full force. Students write one idea per sticky note and place them in the center of their table. Teams are encouraged to think of as many ideas as possible, even if they think they've already found one idea they want to explore further.
Improve Reality One Word at a Time
Upon hearing the word "technology" many of our elementary-aged students' minds go to "robots." I will find several notes with that word scribbled across it. In order to guide students away from the common idea of just building a robot to help with their chores, we start digging deeper: "What would your robot's job be? What could a robot do that would be beneficial to other people in the world? What types of robots do you know that already exist and help people in their lives?" By probing students and pushing them to think a little deeper, we can usually jump this hurdle into finding more detailed and concrete inventions. This is a core part of project-based learning.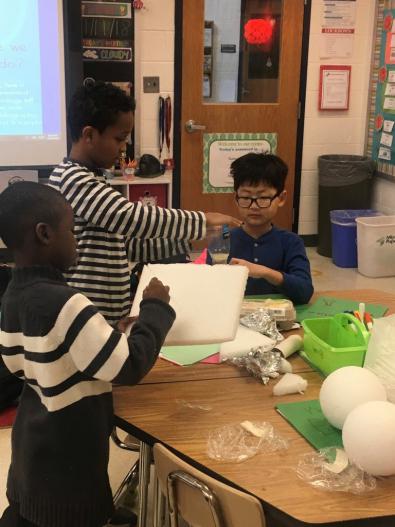 Once each table is filled with creative ideas, it's time to choose their final ExploraVision topic. By sorting through the sticky notes and making piles of similarities, students come to a consensus as a team on which idea they think has the most potential.
Encourage Thinking Outside of the Classroom
At the close of the lesson, I ask students to continue to brainstorm ideas after they leave and have conversations with others that they know. We acknowledge that our best thoughts do not always come to the surface right away and I give them one more week before they lock in their team's decision.
As an ExploraVision coach, my biggest tip is to take time in the beginning to help students make good selections that will set them up for success for the rest of their project. You don't need to choose actual ideas for the students, but rather guide them to ideas with the most possibilities. Viability is part of the ExploraVision rubric and your experience as a teacher can help young minds assess whether or not something is feasible.
Download these powerful K-12 science lesson plans to get started!
About the Author
Christine Ramirez is an elementary school science teacher in the suburbs of our nation's capital. She encourages her students to think of the "big picture" and explore what excites them. Follow Christine on Twitter and learn more about other ExploraVision ambassadors.