The American Dream is alive and well—it is embodied within Mimi Yen, a Honduran-born woman in STEM who has already accomplished significant educational milestones in two decades and shows no signs of stopping.
When Yen was a child, her family settled in New York City—first in the borough of Queens and then later moved to Brooklyn. According to Yen, her positive experiences as an immigrant in city schools solidified her educational journey. For high school, she was admitted to Stuyvesant High School—a top-rated high school by U.S. News & World Report with a specialized STEM program.
The Value of Mentorship
For Yen, mentorship has been the common thread in her educational journey. "My parents didn't finish their middle schooling…but they were extremely supportive of me finding ways to connect with people who could help advance my education and career in STEM," said Yen. She described her parents as "hands-off" which allowed greater room for personal independence and exploration while they made a comfortable life for the family in America. "They did help by reminding me to get enough sleep during high school!" laughed Yen.
At Stuyvesant, Yen found an influential mentor, Mr. Jonathan Gastel, who challenged her world view and pushed her to pursue more than what was required. At the time, Mr. Gastel was a high school science teacher with a knack for identifying emerging talent beyond his classroom.
However, in the classroom, Yen fostered a connection with her chemistry teacher, Dr. Zhen-Chuan Li, when ExploraVision was introduced to her in 2010. "I felt so lucky that every step of the way, someone opened up scientific opportunities," recounted Yen. She was excited at the prospect of project-based learning with her team of four peers and coaching support by Dr. Li.
Advancing Healthcare & Education
Yen's ExporaVision team—composed of four young women—decided to tackle Macular Degeneration and Retinitis Pigmentosa, conditions with limited treatment options that compromise eye sight. The team consulted with primary and secondary sources to create I-CEE: IKVAV a process that used advances in ophthalmology and material science to convert photons into electricity for improved eyesight.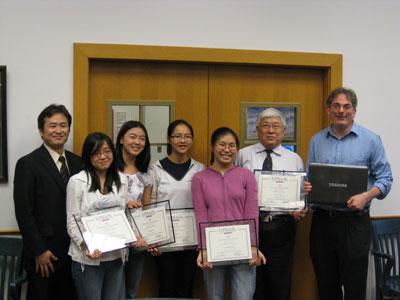 Caption: Left to Right: Satoshi Kawada (Toshiba), Donna Lee, Angela Fan, Mimi Yen, Michelle Zhang, Dr. Zhen-Chuan Li (Coach), Jonathan Gastel (Mentor).
Teamwork was a learning experience for Yen and her friends, "At the time, there weren't many scientific female role models, so we learned how help, support, and celebrate ourselves. It made us stronger." Every step of the way, Dr. Li checked in with teams and asked teammates to challenge assumptions. This coaching style boosted morale over the long term.
After several months of exploring the scientific process, the ceremonious moment arrived: Yen's ExploraVision team had been named national finalists. In addition to an expense-paid trip to Washington, D.C., meetings with elected officials, and scholarship savings bonds, they all had another leg-up in the college admissions process.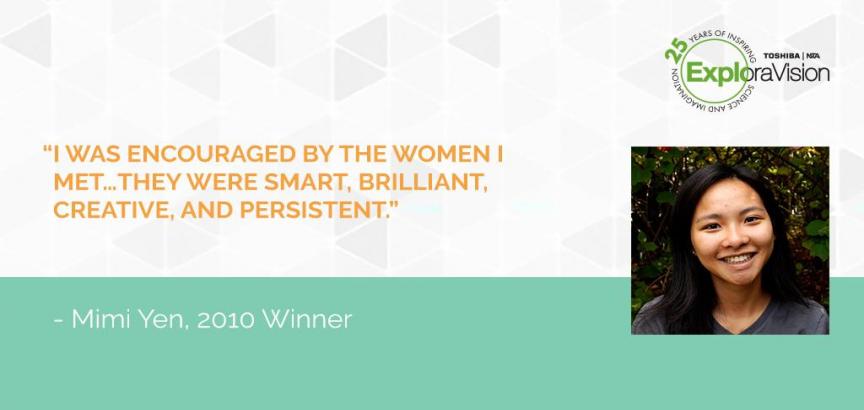 In her senior year of high school, Yen was accepted to Harvard University as a candidate for Human Developmental and Regenerative Biology. Her experience with ExploraVision laid the groundwork for her collegiate experiences such as studying biology abroad in Shanghai, China, working as a lab researcher, and serving as President of the Harvard Undergraduate Research Association.
Advice for Women in STEM
All of these diverse experiences left an impression with Yen, "I was encouraged by the women I met…they were smart, brilliant, creative, and persistent. Women can be just as successful as men if given the opportunity." Yen noted that women still face bias in laboratory settings, but she has three suggestions to overcome those challenges:
1)    Assert yourself. Make yourself known by asking for opportunities, advice, support, and mentorship. If a colleague is discouraging you from something you want to do—take the advice that seems correct for your journey.
2)    Support other women. There are more women in STEM than ever, but gender bias has yet to be addressed. It's important to raise awareness of female accomplishments every step of the way.
3)    Positive thinking. If you surround yourself with people who believe in and challenge you, everyone benefits. There is no time for negativity when you're devising ways to improve the world.
In Fall 2017, Yen hopes to attend medical school and specialize mental health. For now, Yen is a dynamic force whose educational journey is continuing outside of the classroom through volunteer work with German prisoners and asylum-seeking refugees in Berlin. ExploraVision empowered Yen to take on global issues at a young age and help improve the world through science.