Diane Celle is a teacher at Holmes Elementary School in San Diego, CA. Last year, she coached a K-3 science team that won 2nd place nationally and was honored at the ExploraVision Awards Weekend in Washington, DC.
Q: Do you have a process for entering ExploraVision?
A: I ask my third grade students who are diligent learners, big thinkers, and interested in science to participate in the project. I also look to their parents to remain engaged in the process as third graders will need research guidance after hours. Once we select our team, we brainstorm big issues that bother one another. Ultimately, one specific problem informs our idea and then we add a futuristic spin.
Q: What is the most rewarding part of the program?
A: I get a better chance to learn all about my students on not only academic, but personal levels because our meetings are after school hours. The meetings are about an hour and a half of structured learning and fun.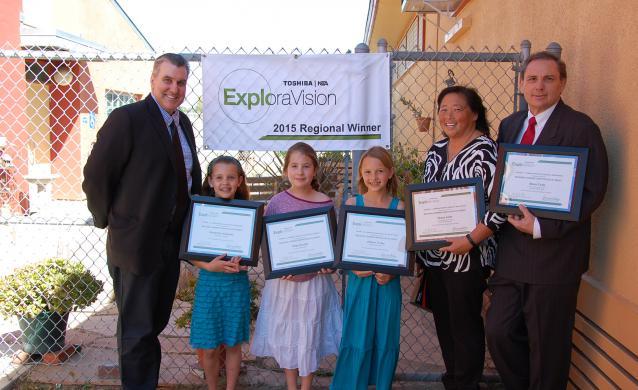 Caption: Tom Hume (Toshiba), Samantha Valverde, Riley Coulter, Allison Turley, Diana Celle (coach), Steve Celle (mentor)
Q: Where did your students need the most help?
A: My students needed help with researching and incorporating that data into the project. We use resources such as the Internet, books, videos, and TV shows to help understand the concepts. Fortunately, my husband is an engineer and a team mentor who can also explain concept topics in simple terms.
Q: How long have you participated in ExploraVision and what were some of your past teams' past projects?
A: I've been a team coach for 19 years because I believe in the power of the program and empowering young learners. My past teams have created "Refrigerator With a Brain," "Robo-Buoy," "Finders Keepers," "The Bath Butler," and "The Sleep Doctor."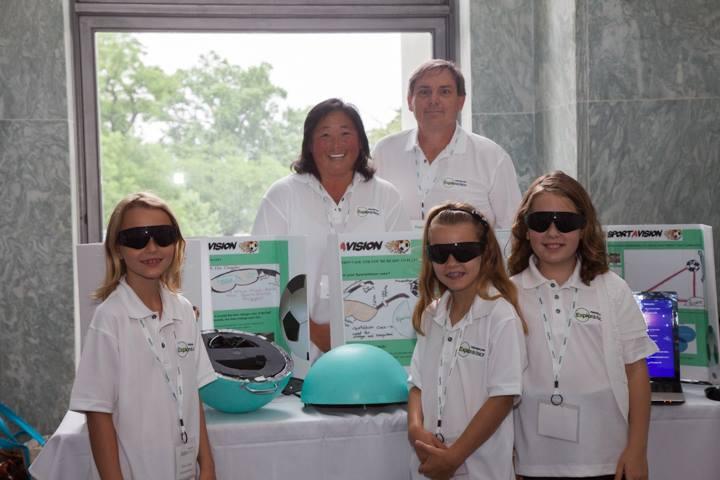 Caption: Diane's team created SportaVision, a brand new way to play field spots with virtual reality, GPS, and triangulation technology.
Q: Do you have any advice for new ExploraVision coaches?
A: Don't be overwhelmed, because the entire project is worth it.10 pages may seem like a lot, but it it's not when you put it all together. You'll find you're frequently cutting pages and continually refining the paper.
Are you ready to create your own classroom legacy similar to Diane? STEM leaders with project-based learning? Registration is open now.