Samantha Grzelak is a science teacher at Marlboro Memorial Middle School in Marlboro, NJ. Last year, she coached a grade 7-9 science team that won 1st place nationally and was honored at the ExploraVision Awards Weekend in Washington, D.C.
Q: What are the positive benefits of participating in ExploraVision?
A: While my students enjoy the tangible benefits, such as winning prizes, I'm impressed that they can experience a formal engineering and design process hands-on. It's typically much harder to incorporate something so comprehensive in everyday lesson plans.
Q: What is your process for entering ExploraVision?
A: This was my first year entering a team in the program, so I found it helpful to take the larger tasks and divide them into smaller parts. Students come to class with 1-3 ideas, create a proposal, engage in a team conference with me, and narrow down the ideas. Teams then create an annotated bibliography, outline, rough draft, and engage in peer editing before submitting a final project.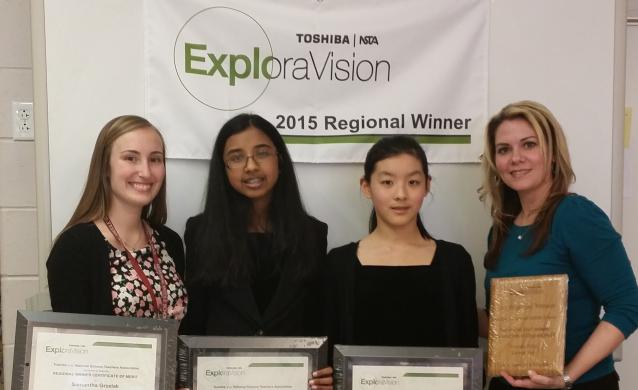 Caption: Samantha Grzelak and her winning team proudly show off their signed certificates.
Q: Did you help your students pick ideas or themes for their projects?
A: When my students arrive with 1-3 ideas, we schedule a team conference. Based on where I can feel their passion while explaining their concept, I lead them in that direction. I also love seeing my students' excitement in these conferences. The best projects come from seeing a need in society and creating an innovation to address that need.
Q: Is ExploraVision part of your school's curriculum?
A: At our school, we piloted ExploraVision for our 8th grade honors curriculum during the 2014-2015 school year. Due to our success, we're rolling it out to 6th and 7th graders over the following school years. We're also rewriting our curriculum to pilot NGSS in the 2015-2016 school year.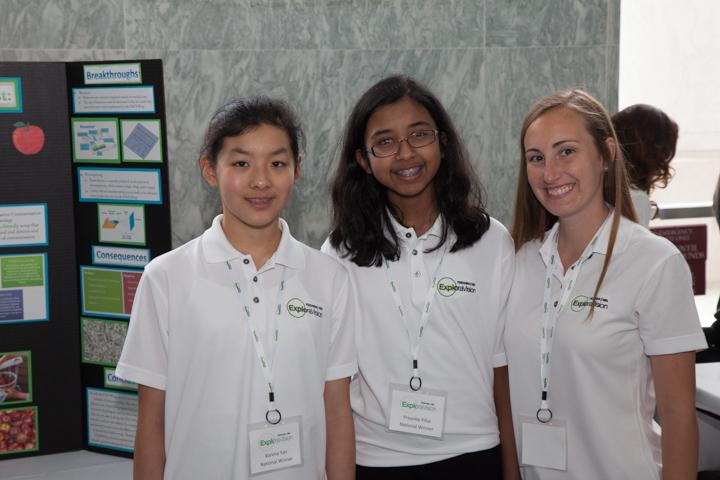 Caption: Samantha Grzelak's team imagined a unique way to combat food waste with nanotechnology and biosensors.
Q: How do you keep your students motivated throughout the project submission process?
A: I find that many of my students are intrinsically motivated to make a difference and even win prizes. My students are graded as well—but I truly believe students are excited to work hard toward an accomplishment.
Ready to inspire your classroom of future STEM leaders with project-based learning? Registration is open now.